Once again a great motorcycle event including a bike rally from all points of the compass will be taking place for the 10th time in the Kulmbach Brewery grounds on 24th and 25th April. Motto of the event is "Arrive Alive" (Ankommen statt Umkommen), attracting year for year more than 50,000 motorcyclists and bike enthusiasts to Kulmbach.Organisers are the Bavarian Ministry of the Interior and Upper Franconian Police Headquarters, together with the City of Kulmbach and Kulmbach Brewery. All day visitors to the road safety exhibition can find out about the work done by the Bavarian Police and the Bavarian State Driving Instructors' Organisation, as well as learning about all the latest developments from BMW, Ducati and Kawasaki. In addition to this, test rides will also be on offer. Additional presentations will be made by ADAC, DEKRA, Area Traffic Control and other institutions. An ever-growing part of the event is the Bikers' Market. More than twenty traders will be offering bike accessories and motorbike gear, so visitors can equip themselves with everything from sunglasses to leather bikewear. A beer garden with over 5,000 seats and more than 25 food and drink stalls invite visitors to enjoy some time there.A special highlight with "guaranteed goose-pimples" is - as every year - the bike procession through the Kulmbach city centre, with about 20,000 participants and including more than 200 police officers and their bikes from all over Europe. In the early hours of the morning participants will set off from more than 30 Bavarian towns, led and supervised by police motorcyclists, the Driving Instructors' Organisation and the Red Cross. Meeting point is the Albert-Ruckdeschel-Straße in Kulmbach. From there participants proceed together through the centre of Kulmbach to the Kulmbach Brewery event grounds, where the rally bikers will be greeted by enthusiastic spectators.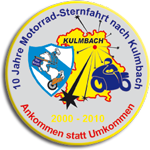 The Blue Knights will be offering a Bikers' Rally patch again this year.
For more details see the
Blue Knights
home page.